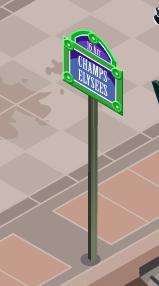 Beautiful, luxurious, elegant, right in Paris's "coeur" (heart) shines Les Champs-Elysees.
You will unlock Champs-Elyesees once you've reached level 58.
You can find here a peinteur and a street musician, which will make your trip to Champs Elysees a trip to be remembered!
Are you ready for Les Champs Elysees and its beautiful songs? [[1]]
Ad blocker interference detected!
Wikia is a free-to-use site that makes money from advertising. We have a modified experience for viewers using ad blockers

Wikia is not accessible if you've made further modifications. Remove the custom ad blocker rule(s) and the page will load as expected.