You can see your Fame at the main bar or from "My Life" section.
You have points of fame in every city. It can be gained by winning parties, succesful shotdown another It Girl players on the streets, or you can go at Fame from "My Life" and shutdown players from there, and from throwing a party.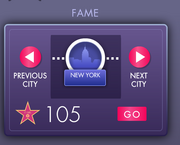 You also need Fame Points to throw a Party & to upgrade Party accessories like Bouncer, Dance Floor to another level.   
Ad blocker interference detected!
Wikia is a free-to-use site that makes money from advertising. We have a modified experience for viewers using ad blockers

Wikia is not accessible if you've made further modifications. Remove the custom ad blocker rule(s) and the page will load as expected.