On 17th April 2014, every player can earn free diamonds by completing different offers.
You can enter the offers by clicking on the icon above the Quests.
 BEWARE!!! SOME OF THE APPLICATIONS/OFFERS ARE NOT SAFE! YOU CAN ALSO GET VIRUSES FROM DOWNLOADING A TYPE OF APPLICATION! AND DON'T GIVE PERSONAL INFORMATION!
You can select offers from different categories. Most of them are for buying online or downloading applications for your phone. (Tip: Don't waste real money for these offers)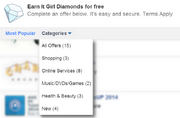 Ad blocker interference detected!
Wikia is a free-to-use site that makes money from advertising. We have a modified experience for viewers using ad blockers

Wikia is not accessible if you've made further modifications. Remove the custom ad blocker rule(s) and the page will load as expected.