Lee Lee Vear is a Premium shop available in the Las Vegas district.
It costs 99 Facebook credits.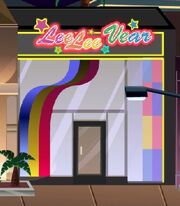 The theme is rainbows.
N.B. Unlike the Halloween Stores, which you can buy and visit anytime you like in Union Square, Lee Lee Vear seems to stay in Las Vegas, even when your visit is over. So to search it, you must send requests every time.
The Store Gallery:Edit