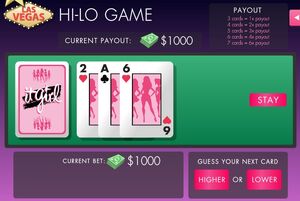 This is a repost with the kind permission from Susie Kaehler, who created the said guide, with some help from other players. The original can be found
here
, if interested.
The Guide To Playing The Hi-Lo Game Successfully:
1.When the card shown in front of you is A, then the next card will ALWAYS BE LOWER.
2. When the card shown in front of you is 2, 3, 4 or 5, the next card will be HIGHER (specially in cases of 2 and 3).
3. When the card shown is 6, 7, 8 and at times 9, the next card TENDS TO BE LOWER.
4.  When the card is K, Q or J, the next card TENDS TO BE LOWER (specially in cases of K and Q).
5. BEWARE: Once you have won $4000-$6000 from the game, then don't play it further for at least 10-15 minutes because it takes back all the money it gave you.
6.  If you do play right after winning the above mentioned sum of money, then these tricks might not work specially 3 and 4.
7. If you get a number, say 6, and the next number is also 6, then whatever you select doesn't matter because you'll lose. Its a trick used by the game itself to trick us but we're smart enough to figure out.. ;)
THESE 7 TRICKS WILL HELP YOU WIN MONEY AT CASINOS. MAYBE AT TIMES THEY DON'T WORK BECAUSE OF THE SERVER PATERNS BUT MOST OF THE GAME DESIGN HAS BEEN CONFIGURED. AND ALWAYS BET $1000. OR ELSE FORGET ABOUT THE HUGE SUM OF MONEY TO BE WON.
Ad blocker interference detected!
Wikia is a free-to-use site that makes money from advertising. We have a modified experience for viewers using ad blockers

Wikia is not accessible if you've made further modifications. Remove the custom ad blocker rule(s) and the page will load as expected.