Urban Terrain



Location:

Los Angeles

District:

Santa Monica

Level Requirement:

22

Entering Requirement:

10000

Clothing type:

Dresses, Blouses, Jackets, Pants, Skirts, Shoes, Bags, Jewelry, Swimwear

Racks:

13

Basic:

29

Couture:

2

Prices:

N/A

Hair Style(s):

none
Urban Terrain is a cash-locked store located in Santa Monica, Los Angeles.
The store is available for 10.000 It Girl Cash.
This is for unlocking the store only.
The Store Gallery:Edit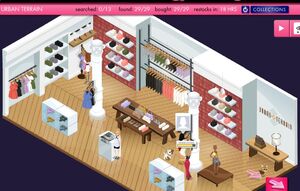 Ad blocker interference detected!
Wikia is a free-to-use site that makes money from advertising. We have a modified experience for viewers using ad blockers

Wikia is not accessible if you've made further modifications. Remove the custom ad blocker rule(s) and the page will load as expected.